Maggie Moo Rehab Grant #116 went to Tripawds community member sandy21. The free canine rehab consultation helps front leg Tripawd Kimani get strong and enjoy a happy healthy life on three legs. Read his story, and learn how you can get a free veterinary rehab evaluation for your dog or cat.

Yes! Tri-kitties qualify for free feline rehab too. See all Tripawds who have received free rehab sessions thanks to your support.
Front Leg Tripawd Kimani Gets Free Canine Rehab
My sweet 7yr old hound mix Kimani was recently diagnosed with osteosarcoma. From the onset of limping we pursued x-rays, CT, and bone aspirate which confirmed her diagnosis; 10 days from the onset we were amputating her left forelimb.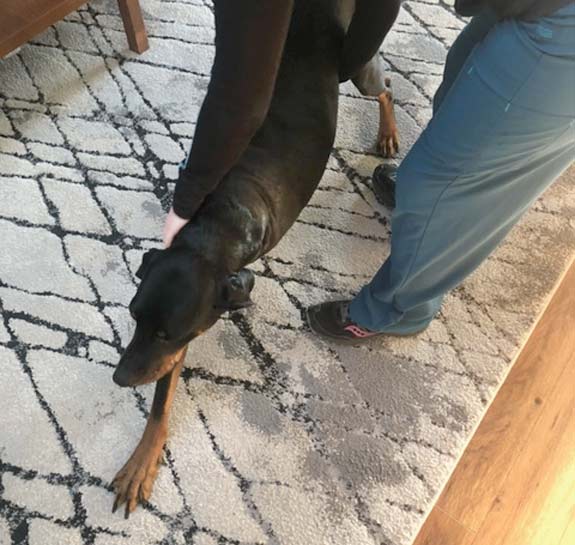 Two weeks post-op after her sutures were removed we had her initial front leg Tripawd PT consult. This consult left us wanting if we are being honest, we were not allowed to be present or watch her being handled. My husband and I have worked in vet clinics for over 10 years so we do have high expectations. The consult consisted of talking about our dog with the PT for 5 mins outside, she then met out dog watched her walk on the sidewalk and then took her in the clinic. Their assessment lasted 1.5hrs while we waited in the car. Afterward the PT discussed briefly what they had done, walking her, hands on assessment. We were glad they take a fear free approach and did not push our pup as she can be nervous without us present, but we are still unclear what exercises or activities were done with her for 90minutes. They did send follow up videos of the PT walking her along with exercises to work on at home.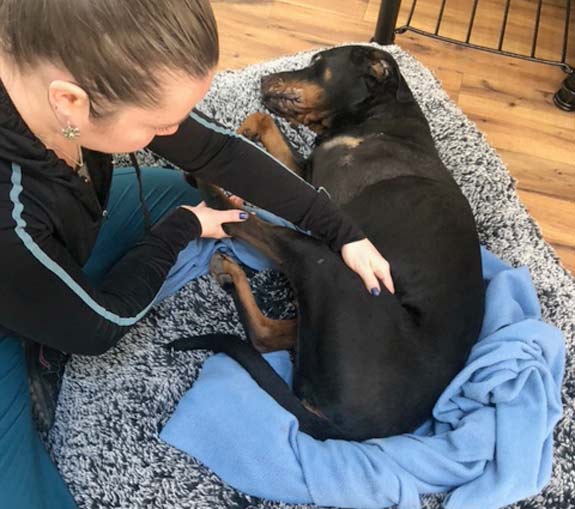 At home exercises recommended are left hind ROM (Range of Motion), 10 reps, twice daily. Hips sway, left and right hips 2×5 each way twice daily, and front feet elevated 2-3inches for 3-15 seconds twice a day.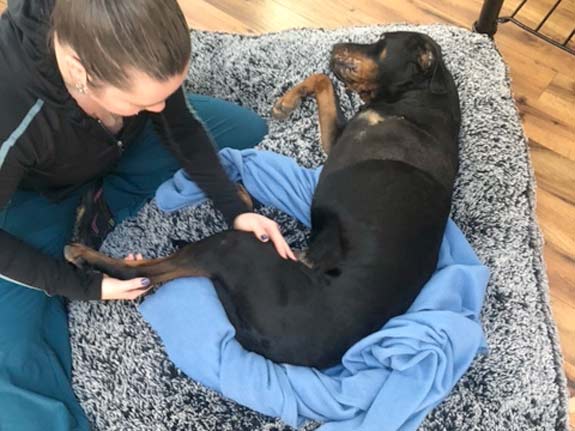 Since our initial consult we had a mobile certified PT come to our house and we couldn't have been happier with this experience. She had great energy, took her time with our dog and didn't push her comfort levels, she gave us so much great information and exercises to do at home. Our dog loved her and tolerated her handling and exercises well. We have been doing daily exercises with our dog, since her front leg Tripawd surgery she has strained her left iliopsoas so we are doing exercises for that as well.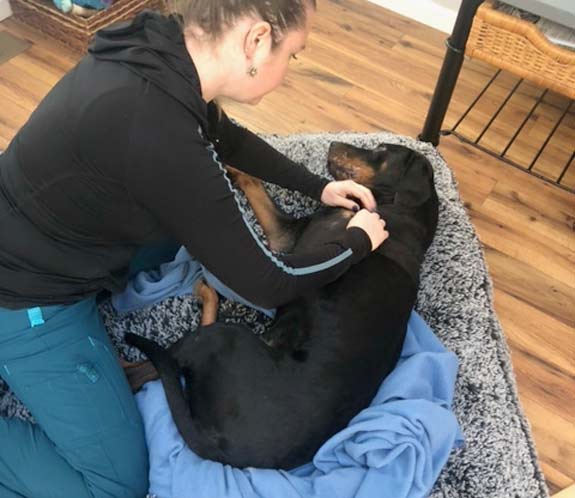 Tripawd Rehab Exercises:
Sit to stand 3-5 times done twice daily- this helps build her glutes and strengthens her core.
Core engagement, lightly touching her ventral abdomen so she tightens her core while standing, 2-3 times twice daily
ROM on all remaining limbs to maintain ROM and flexibility, 10 reps twice daily
Neck flexion as she is tight since her surgery and compensation in movement, flex and hold to each side, up and down. Twice daily
Static standing to increase her strength in standing position.
Massage of her remaining shoulder and incision site twice daily.
Learning the core exercises and overall strength training to help her re-balance has been most interesting.
I cant say enough about Heidi Cozier at Canine Rehab Services, she is a wonderful PT and has amazing dog skills.
I found the Tripawds website though my research for amputee support, Heidi told me about your PT support program.
Thank you for all you do, the Tripawds Community website has been so helpful.
~Sandy and Kimani (sandy21)