Fenton gets free front leg Tripawd rehab evaluation thanks to Tripawds Foundation Rehab Grant #152. His free consultation and at-home rehab exercises help Fenton stay strong and fit. Read his story, and learn how you can get a free veterinary rehab evaluation for your dog or cat.

Yes! Tri-kitties qualify for free feline rehab too. See all Tripawds who have received free rehab sessions thanks to your support.
My 11 year-old sweet tripawd Fenton and I met with Carol Wasmucky at Pet Rehab because Fenton is 5 weeks post amputation due to osteosarcoma. I wanted to help him adjust to being a front leg Tripawd. Even though dogs are amazing and he appeared to be doing well, I knew there had to be things to work on to help him strengthen muscles he was now needing to use more than before.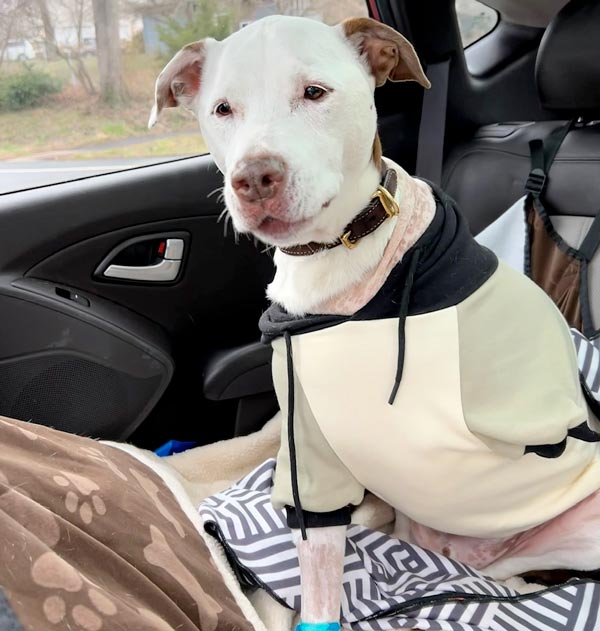 Carol had met with Fenton 18 months ago after his TPLO surgery, but it was during COVID so we had to meet through Zoom, not in person. Meeting in person this time was so much better than through Zoom. She assessed his walking as we walked from the waiting room. We started with massage which to say Fenton enjoyed would be an understatement! She held my hand so I could feel where and with what amount of pressure I should be massaging. In addition, she paid special attention to his back and his remaining front leg, but did his other legs and his neck.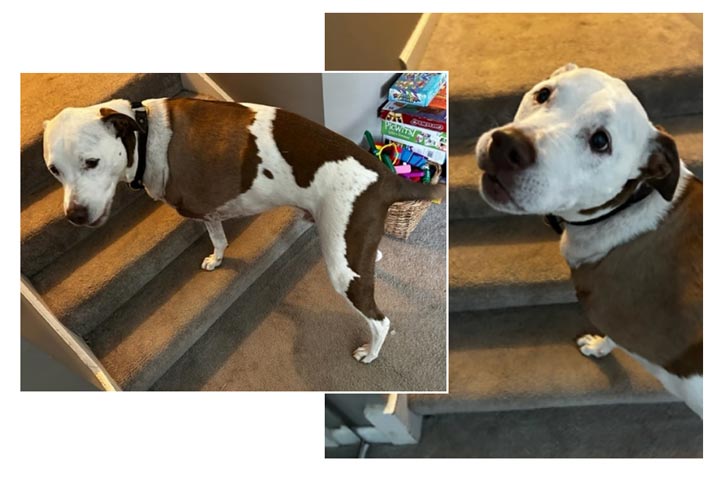 Front Leg Tripawd Rehab Exercises for Fenton
Next, we worked on stretches of his biceps, triceps, and hip flexor and practiced exercises including squats (sit, stand, sit, stand) and backups. I mentioned he still wasn't able or confident enough to go out our dog door. So, we worked on having him step over a pool noodle. At home I now do this exercise having him walk back and forth over my legs. She explained to me how Fenton was compensating to being a tripawd and how those were normal and expected changes, which reassured me and helped me understand what he and I are dealing with.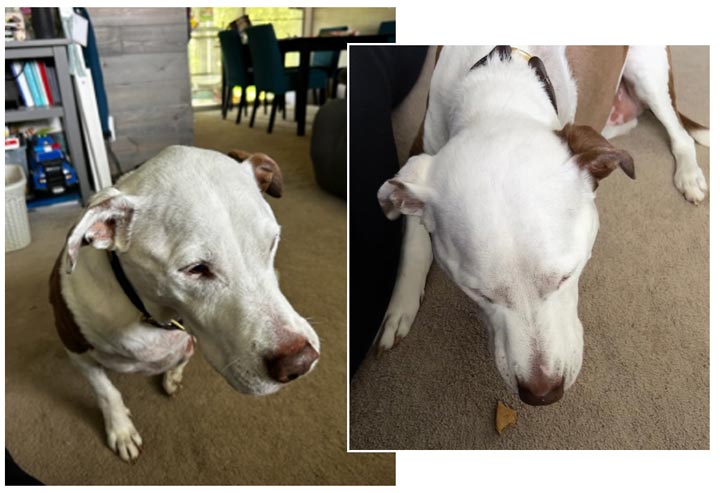 Meeting with Carol gave me a Front Leg Tripawd Rehab plan to do with Fenton each day. We actually have fun exercising a few times each day! This regimen we learned will help Fenton with his transition to three legs. In addition, doing exercises, stretches and massages with him is another way to spend time with him which brings us even closer. He is not yet up to long walks, so we do a few short walks a day plus the exercises, stretches, and massages she demonstrated.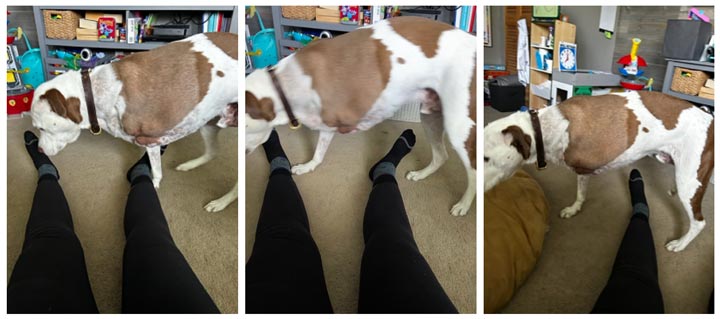 Finally, Carol also sent a paper with each exercise illustrated and written out. And, she included a video for each exercise. Although the papers and videos are helpful to look back on and refresh myself, the experience of being there with Fenton doing it in person with Carol was invaluable! We will go back again in a few weeks and add some new exercises. In the mean time she is available to me for any questions or concerns I may have!
~ Noelle and Fenton