Front leg Tripawd Scully gets free rehab evaluation thanks to Tripawds Foundation Rehab Grant #153. His free consultation and at-home rehab exercises help Scully stay strong and fit. Read his story, and learn how you can get a free veterinary rehab evaluation for your dog or cat.

Yes! Tri-kitties qualify for free feline rehab too. See all Tripawds who have received free rehab sessions thanks to your support.
I'm attaching a copy of Tripawd Scully's rehab consult, the receipt, as well as a video of him swimming, and a picture of him for doggie Vogue magazine! 😂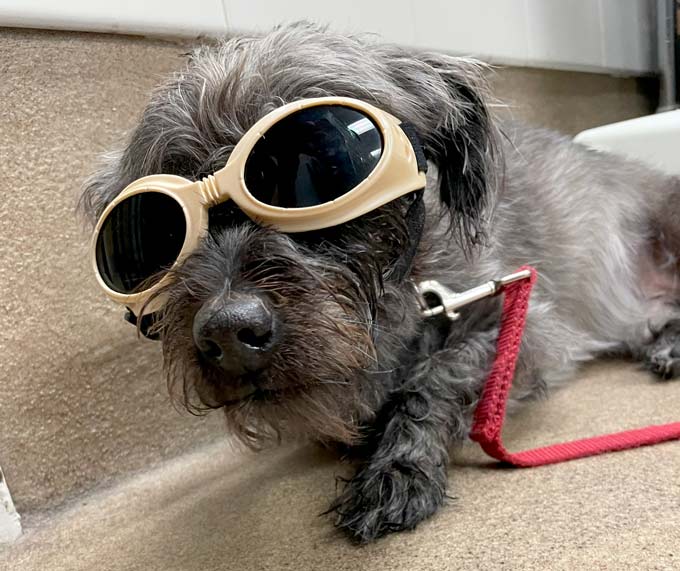 The therapists at Eastern Carolina Veterinary Referral were both great!  They recognized Scully has some issues with his back knees which increases his need for muscle strengthening and for prevention of worsening inflammation. They performed a thorough exam and advised me to continue trying to get his weight down.
Tripawd Scully has lost 2 pounds since the day after his amputation, so I'm optimistic he will continue on this path. I've had to cut down on his kibble and snacks. I've purchased a doggie life jacket that the therapist recommended, and I plan to do hydrotherapy with him at home, as I have a large soaking tub. He has had two sessions at the rehab and I plan to do only  one more next week, as it is very expensive. 
Physical Rehabilitation Consult for Front Leg Tripawd Scully
Scully presents to us after his forelimb amputation in 12/2022. His owner is seeking a consult to see if she could get some guidance on activities that she can do with Scully at home. Owner states that Scully does lay down more rather than sit. She states that he does have a history of luxating patellas but is unclear if that is his issue.
Owner states that she lives in a second floor condo with 15 stairs to go up/down to go outside. She has carpet/tile/hardwood floors that she states do not seem to be an issue for Scully. Gait-Scully has more of a hopping gait due to the forelimb amputation. He does also have weightbearing diffculty in the hindlimbs that may have been exacerbated by the forelimb amputation.
Stance: Scully demonstrates a slightly tucked hindlimb stance with a slight arch in his lumbar spine. This is likely a compensatory pattern to offset the loss of limb but also a stabilizing posture due to the luxating patellas. He has grade 111 luxating patellas bilaterally and possible bilateral chronic CCL tears (per Dr. Ned Williams, DACVS, DACVSMR). This certainly would be contributing to his desire to lay down vs. sit, as well as his compensatory posture during ambulation and stance.
UPDATE: Scully has had three sessions, and now I'm going to do hydrotherapy with him at home. I got him the life vest the rehab recommended and will use my soaking tub. Should be an adventure, but Scully seems to roll with the punches and adapt to everything that he's gone through.
I've distributed a few of the Tripawds brochures at both Scully's regular vet's office and the rehab facility. Thank you and the others for being so helpful.  I look forward to the next Tripawds Zoom Call.
~ Harri and Scully