In last week's wrap-up of Leo's Fundraising Project, we thanked his friends and family for raising more than $1500 for the Tripawds Foundation.
How the Funds Will be Used
With this unexpected infusion of funds, the Tripawds Foundation was finally able to purchase professional display materials for exhibiting at veterinary conferences, canine cancer walks, and other events for years to come.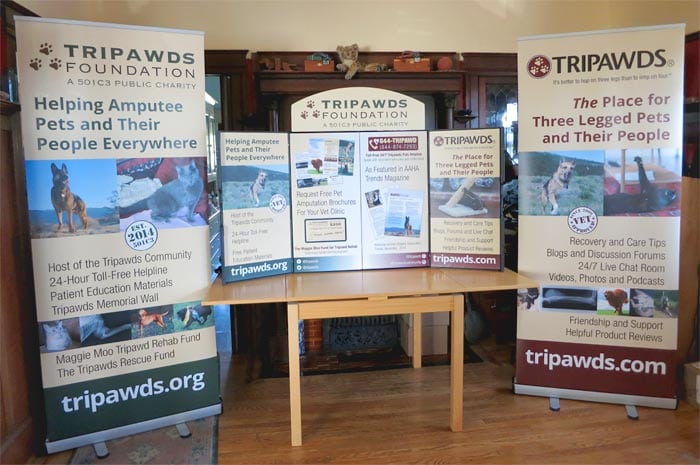 These new materials make a much better impression of the Tripawds community than the vinyl banner and cardboard poster we've been shipping around to events all over the country for the past few years.
With this new tabletop display and banners, we will continue to show the world that the Tripawds Foundation is helping amputee pets everywhere. And that the Tripawds Blogs and Forums are the largest online community for three legged pets and their people.
And we owe it all to Leo, and his friends and family who gave so generously in honor of Homer.
"Informing veterinarians and oncologists is the best way to reach the people who need Tripawds most," said Foundation President Jim Nelson. "By attending professional conferences, we can keep spreading the word about the many free resources available to those facing amputation for their pets. And now we have professional display materials to help make a lasting impression."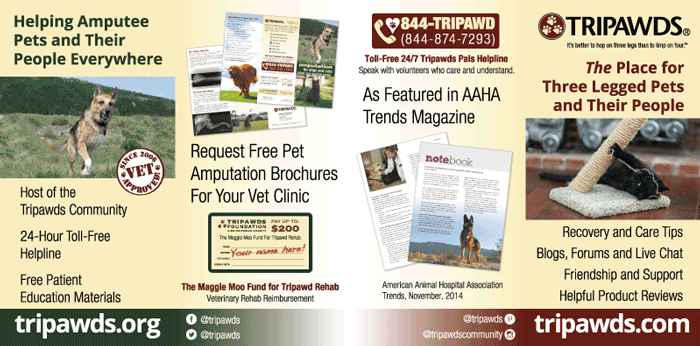 The Tripawds Foundation will unveil the new exhibit for the first time at the 2016 AAHA Conference in Austin, Texas. Stay tuned for more information and photos from the event.
We are certain to have many more requests for Free Tripawds Brochures from vets attending this conference, so please consider making a small contribution to help us print more, and fund the various other projects in the works!
Support Tripawds to Honor Your Angels & Heroes Here
Remaining proceeds from Leo's Fundraiser will help us maintain ongoing projects of the Tripawds Foundation: