Don't miss the detailed overview of the Tripawds Foundation Exhibit at AAHA 2016 in the Tripawds News Blog.
In short, our first exhibit at a veterinary conference was a smashing success! Thanks to Leo, we had a new Tripawds exhibit that attracted attention and informed everyone who stopped by. We had fun Tripawds movies looping, while we gathered contact info from anyone interested. And everyone was interested.
Tripawds Informs Vets at AAHA Conference
This year's annual American Animal Hospital Association conference in Austin, Texas drew 2000+ attendees from around the world across all veterinary disciplines—including many leaders in the field.
Hundreds of veterinarians, technicians, students and specialists visited the Tripawds Foundation booth over the four day conference. And Wyatt Ray was there to greet them.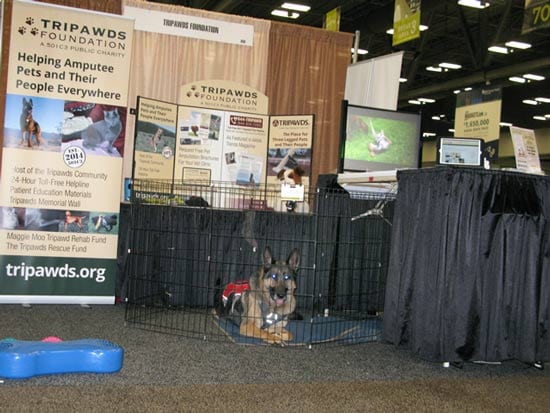 When we informed them about what we do, not one single person said, "not interested". In fact, we left the show feeling validated and reassured about the work we are doing to help Tripawds and their people everywhere!
Here are just a few comments we heard from veterinarians:
"We love Tripawds!"
"You're doing important work out there."
"We need you."
Helping Vets Help Their Clients
The 2016 AAHA conference was the first time the Tripawds Foundation has exhibited at any sort of industry event. We went to the show hoping to inform vets and techs about how the Tripawds community can help their clients facing amputation for their dogs and cats. Many attendees were familiar with our work. Others were excited to learn we exist.
All wanted to receive the free pet amputation brochures we offer to vet clinics.
More than 100 clinics will be receiving these free brochures. Designed to help concerned pet parents make better informed decisions about amputation, these materials provide comfort, resources, and a number to call the Tripawds Helpline.
Now, our challenge is to print and mail these brochures without depleting funds reserved for other assistance programs. With the overwhelming response for brochure requests, printing and postage is going to cost more than expected. And with new programs in the works, we need your help to stay on track.
Please consider a small contribution so we can fulfill our goal for this show and continue our ongoing efforts to maintain the free Tripawds community!
A Behind the Scenes Look at AAHA 2016
Tripawds founders Jim & Rene staffed the Foundation Booth every day. They set it up, they packed it up, and they carried in and out, all to save handling costs.
Spirit Jerry was in the booth all week too—reminding us of his legacy, bringing by his doctors and friends from the past.
Wyatt was busy too, and by the end of the show he was exhausted. Good thing we brought his One Cure fluffy.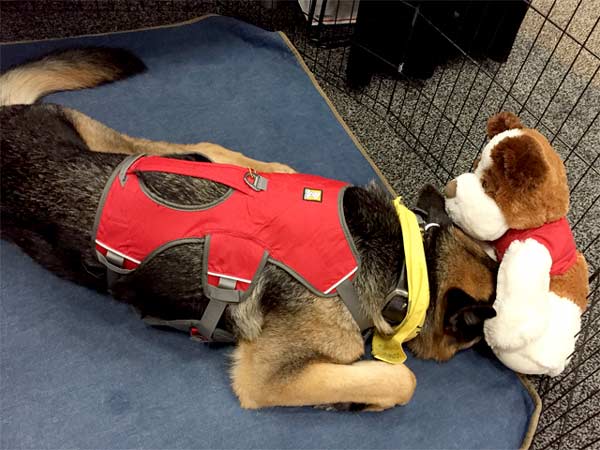 So the show went well, but now the real work begins—compiling our lists, fulfilling brochure requests, following up with potential donors, and replenishing our funds so we can keep Tripawds programs going!
Was it Worthwhile? Yes!
The word is getting out. Veterinarians everywhere are learning to refer their amputation clients to Tripawds for comfort and support. Just look at this slide from the limb amputation seminar Rene attended—she'll be writing about that and much more in the News Blog soon.
Wyatt even got to meet "JP" (John Paul Mitchell) in the exhibit hall.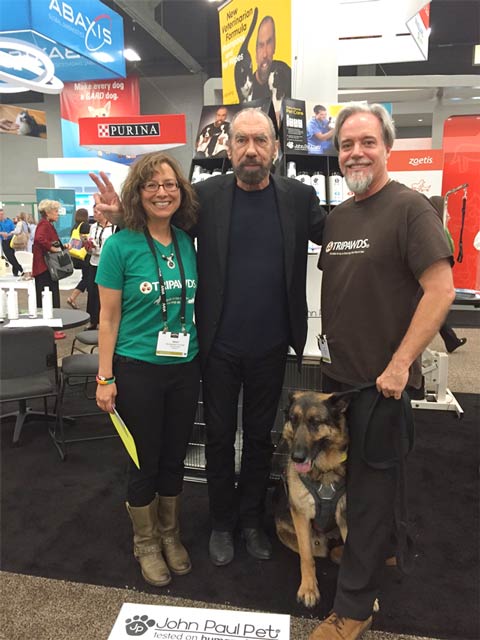 So yes, the Tripawds Foundation hopes to do more events like this. But we can only do it with your support.