The Tripawds Foundation is pleased to announce the first recipient of the Tripawds Rescue Fund! Congratulations to new members speedgibson for welcoming tri-kitty "Baskets" into their home.
All About the Tripawds Rescue Fund
Read on for their story, and please consider a small contribution to help rescue more Tripawds!
About Tri-kitty "Baskets"
A couple of months after losing one of our two beloved cats (16 year old Rory) to cancer, my wife and I decided it was time to adopt a new one.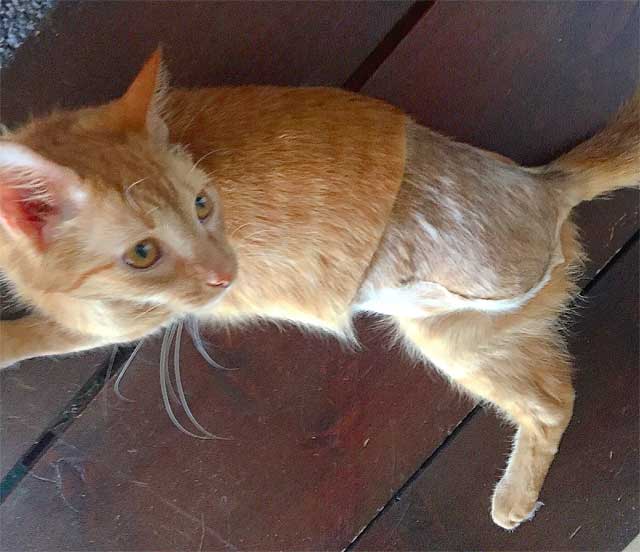 After spending an hour meeting all the cats at the ASPCA in Manhattan, nothing was clicking. (The few we liked were unavailable for one reason or another — they had already been spoken for, or were awaiting health clearances, etc.) We were told, however, that there was an adorable young male out on the mobile adoption truck that day and, if he hadn't been adopted already, we could wait for the truck to return and meet him. Everyone had great things to say about him — how charming, friendly and loving he was. He was rescued as a stray with a leg wound, we were told, and his leg had been amputated a month earlier. "But he's a sweetheart."
It took a couple of hours for the truck to return, but we had a good feeling about the little guy and waited it out. Boy, are we glad we did. What charmer! After spending no more than ten minutes with him in a little play room, there was no question he was coming home with us.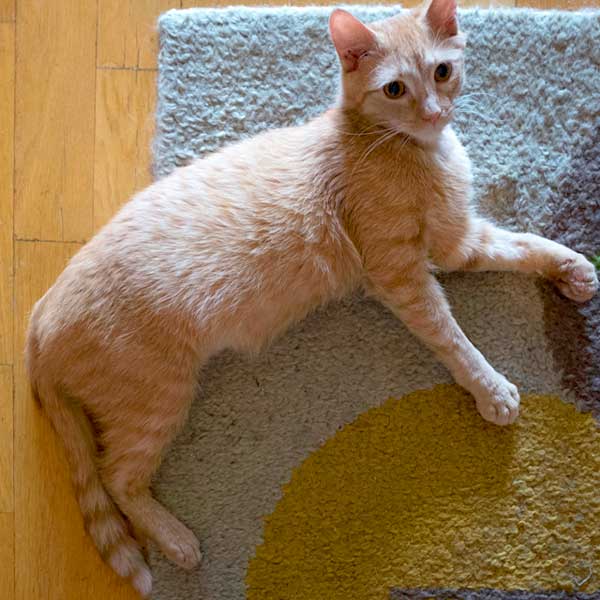 Unfortunately, only a few days after bringing him home, we had to return with him to the ASPCA to see the vet. Little Baskets was showing signs of pain, limping, falling, yowling and biting at the area where his leg used to be. Long story short, we were sent home with some pain meds and began to do more research into three legged pets. That's when we found the Tripawds community. What a great resource!
Thankfully, Baskets seems to have gotten past the little bump in the road and continues to improve day by day. In fact, he continues to amaze us with his speed and agility. Sure he's a little clumsy at times, but aren't we all?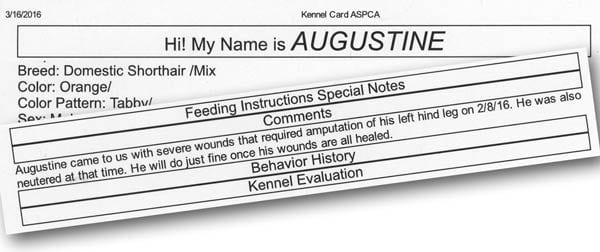 (Our cat's name was Augustine at the adoption center, but we have since taken to calling him Baskets.)
Thank for your great website!
~Jamie and Deborah (and Baskets, too!)