Thanks to the Tripawds Rescue Fund made possible by supporters like you, we were able to reimburse Tripawds member kaylaknudsen for adopting another three legged dog in need. Read on for the story of Tripawd Rescue Portage…
Have you recently rescued a three legged dog or cat? Get more information about the Tripawds Rescue Fund to see if you qualify.
Support Tripawds to Keep the Rescue Fund Going!
See all available program sponsorships.
Our Tripawd Adoption Story
My coworker, Amanda, showed me this dog's picture one day at work.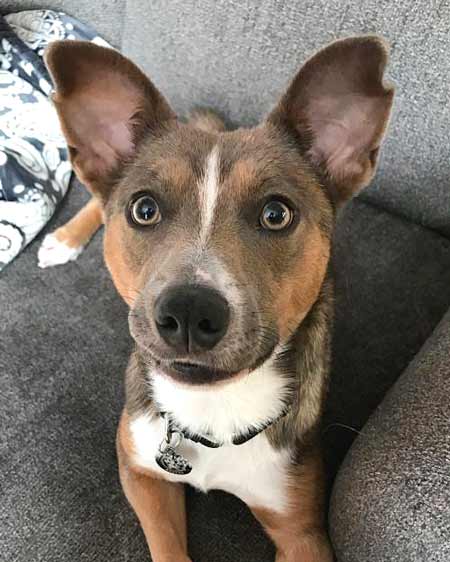 "Look," she said, thrusting her phone in my face. "This is going to be my new foster dog." Amanda and I both work at Ruff Start Rescue, a central Minnesota-based animal rescue, so this isn't that odd of an occurrence. Most of my coworkers foster and have anywhere between 3-7 animals in their homes at one time. I was feeling a bit out of the loop with only 2 cats (Kunu and Pippin), but I didn't think my husband and I were prepared to begin fostering so I was (im)patiently waiting.
"Gosh, he's cute," I gasped. And he was. On the small side of medium-sized, compact, with a nub of a tail. And… a nub of a left back leg. "Wait, is he-"
"YES!" She exclaimed, excited. "He's a Tripawd. I've wanted to care for a three-legged since I started fostering! They are SO cute!"
And so I was introduced to Skidz.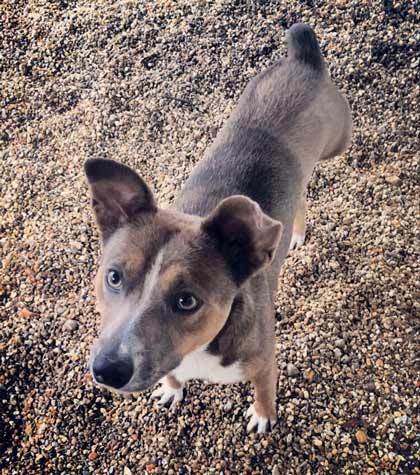 I helped on the rescue's transport day – when the dogs came into our facility from a different rescue in Louisiana. When Skidz got out of the van, I instantly ran to take care of him. At the time, I just knew he was cute; I didn't know what would lie ahead for us in the next few weeks. Skidz was a lover, cuddler, and overall wonderpup – regardless of if he had his fourth leg or not. My husband, Nate, and I walked with him as he discovered snow and breathed in the Minnesota air for the first time. We were happy to be loved by him and he was fantastic, albeit a little scared. But then transport day was done and he went home with his new foster mom. We left, quiet and disappointed but telling ourselves we weren't ready for a dog. Maybe some other time. I pushed Skidz out of my mind for the next few days, and after maybe four days of pining, I got over it. I knew Amanda usually adopted the animals she fostered if they fit into her pack, so I wasn't overly hopeful he would be available to be adopted as he seemed like an ideal dog. Plus, I saw her social media posts about how wonderful he was and how well he seemed to work with her other dogs and cat. But then, on day 5, she posted that they weren't keeping him because they wanted to keep fostering and knew 4 dogs would be their capacity. My heart leapt. We had a chance.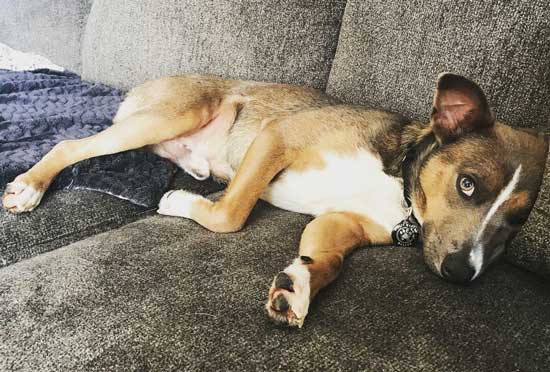 I watched for applications to come in for him, feverishly waiting for Nate to come home so we could have the 'big convo' about Skidz. The moment he got home I pounced, and we both agreed – he seemed like the ideal dog for our current housing and family situation, let's take the leap.
I called Amanda and arrangements were made. Skidz would be coming home to us in two days time, a part of the "Foster to Adopt" program, where we would foster him with the intention of adopting, provided everything went well.
Today is day 10, and we just finalized his adoption papers. Skidz is now known as Portage, an outdoors term meaning "the practice of carrying water craft or cargo over land, either around an obstacle in a river, or between two bodies of water". We, outdoorsy-camping/hiking people, thought it was fitting as most of the portages we've taken have been swampy like his home in Louisiana and required a lot of concentration and skill to adjust to the load of a canoe, much like the adjustment to tripawd life must have taken for him. He is a great dog for us, eager to venture outside for a run or just lick our faces before snuggling into a lap at night. He loves the Minnesota snow, jumps onto couches and beds with no hesitation or difficulty, and loves treats that supplement his joints. His lack of leg is and never has been an obstacle for us or him during his time in our family and the thought that he is labelled as a "specials needs" or "handicapped" animal is mind-blowing to both me and Nathan.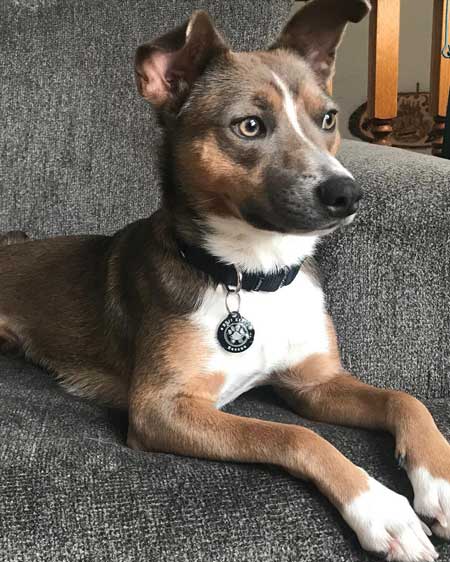 We are excited to bring him on outdoor adventures with us when the snow melts, exploring new terrain unlike anything he's seen before and introducing him to the land of 10,000 lakes properly. He will come to the baseball field with us while we watch Nate play, enjoy socializing with new friends at the dog park, and enjoy intense games of fetch when we move to a place with a fenced-in yard.
To those considering adopting, don't rule out a "handicapped" dog or cat. They are capable of just as much love as a four-legged furkid, and may actually impress you with their ability to be so "normal". Some of them require a little extra care and attention, sure, but when has that really ever been a bad thing? Three legs make them easier to pick up for hugs and kisses, anyway.
With love,
The Knudsens (kaylaknudsen)
Nathan, Kayla, Kunu, Pippin, and Portage