The Racery Results are in! Three paws up to everyone who participated in the 2020 Tripawds Virtual Marathon. This third annual fundraising "race" was our most successful yet, raising just over $3700 total! Team Tripawds joined the fun from all around the country thanks to Racery: The Virtual Race Platform.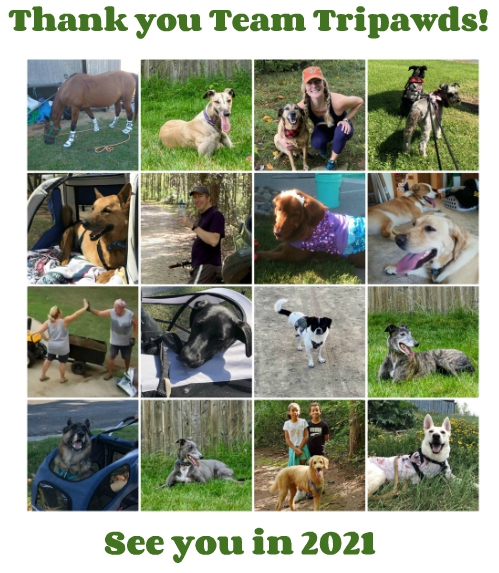 From August 22nd through September 7th, 25 participants logged a total of 1,151.6 miles on our virtual marathon course across the Continental Divide. Thanks to the Racery app, "racers" were able to perform all sorts of exercises or chores which were automatically converted to miles when logging the activity.
Racery Results Reveal "Winners"
The Racery results are in! And while we weren't calling this a race, we do have some winners. Thanks to the pack at Ruffwear, we'll be sending cool prize packages to these Top 3 Participants:
First to Finish Marathon Distance
Longest Distance Logged
Top Fundraiser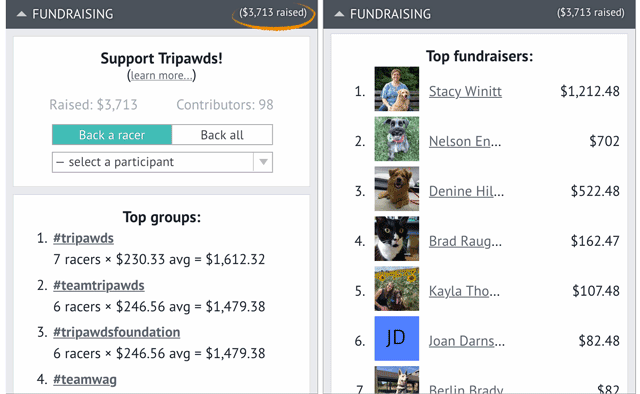 According to the Racery results, our Top Fundraiser for the 2020 Tripawds Virtual Marathon is Team Griffin! Many thanks to Stacy in New York, and her generous fans. They donated more than $1,212 to help the Tripawds Foundation. Thanks to the Racery app, participants shared their personal fundraising links with friends and family. Supporters then backed individual "racers" or the entire team.
Top 10 Fundraisers:
Stacy Winitt – $1,212.48
Nelson Endert – $702
Denine Hilderman – $522.48
Brad Raughley – $162.47
Kayla Thompson – $107.48
Joan Darnsteadt – $82.48
Berlin Brady – $82
Michelle Doner – $72
Jackie Elam – $67.48
Amy Moses – $65.48
The Racery Results have HuckleberrysMom finishing first in Kentucky. Logging all sorts of different activities, Jackie was the first to finish the 26.2 mile course. She'll also be receiving a fun Ruffwear goodie bag.
First 10 Finshers:
Huckleberrysmom
MeganH
Mingomyflamingo
AdminGuy
dawn3g
TripawdsRene
MaryE
WAG
ShanaJones1
D-9
Nearly everyone completed at least one Marathon lap. Sixteen "runners" chose to go the distance, logging more than 26.2 miles. Seven completed two laps.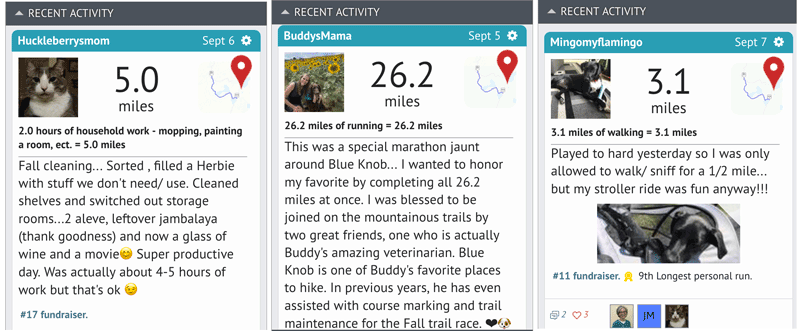 Our Top 3 Ultra Runners finished at least three laps around the course. In Pennsylvania, Buddysmama ran another full marathon distance with just two days remaining, for a total of 104.5 miles. But Mingomyflamingo put in a few extra miles from Massachusetts. At the last minute, Pattie rounded up to 104.8 miles for a full four Marathons.
10 Longest Distance Runners:
Mingomyflamingo – 104.8 miles
BuddysMama – 104.5 miles
AdminGuy – 97.3 miles
TripawdsRene – 77.8 miles
StacyGriffin – 74.4 miles
dawn3g – 58.2 miles
WAG – 56.0 miles
MeganH – 50.9 miles
TeamWAG-Julie – 49.2 miles
Huckleberrysmom – 48.3 miles
If you participated in the third annual virtual marathon, THANK YOU! This fun event just keeps getting better, and we couldn't do it without Racery and your support. Please watch for our email and respond with your mailing address so we can send you a special acknowledgment of our appreciation. Also answer this short survey to help us determine how we can keep making this event even better.
Everyone's a winner! With your support the Tripawds Foundation will continue to help amputee pets and their people everywhere. After the Racery results, we are still less than half way toward reaching our annual fundraising goal for the year.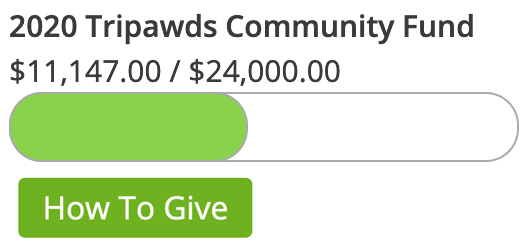 We understand 2020 has been a difficult year for all of us. If you missed your chance to back the team during this year's virtual marathon, please consider a paying tribute to your three legged heroes and angels with a donation of any amount. Or, keep the Tripawds Foundation in your charitable giving plans and stay tuned for our year-end fundraising campaign.
Thank you for your support!