The 2020 Tripawds Virtual Marathon will conclude on September 7, 2020. More than two dozen participants will cross the finish line, logging more than 900 miles thanks to the Racery Virtual Marathon Platform. And with a little help from supporters like you, we will exceed our fundraising goal of $3000! This will help keep the free Tripawds Community online, and maintain programs that support three legged pets and their people everywhere.
Admin Guy recently provided this video update with virtual tour of the Racery virtual marathon app and course we selected for our third annual fundraising race for the Tripawds Foundation
Many of the 25 "racers" hove completed multiple laps of the virtual course. Admin Guy logged activity that put him at the end of his third lap. The Racery Virtual Marathon app presented him with a Google Street View of the walking trail at Old Faithful. In this video, he explains why we chose the course through Yellowstone National Park for this year's race. Spoiler Alert! That is where Tripawds Founders Rene and Jim spent their final days with Jerry, after their epic two-year road trip traveling the country together. For complete details about Jerry, and the journey that led them to create the Tripawds Community and Foundation, read Be More Dog: Learning to Live in the Now.
How Virtual Marathon App is Helping Tripawds Everywhere
Thanks to Racery: the Virtual Race Platform, we were able to create the course of our choice for the third annual Tripawds Virtual Marathon. Most of this race was across trails through Yellowstone National Park. So many stops did not include a Street View for runners logging their activity. With Racery, you can create courses along roads and through cities around the world. Then runners are presented with a street view of their location whenever they log their activity.
Fun for Everyone! Tripawds supporters enjoy participating in the annual virtual marathon. It is a fun way to engage members. It builds a strong sense of community. The Racery app features a messageboard and social features that allows participants to cheer each other on with Likes, comments, and notifications.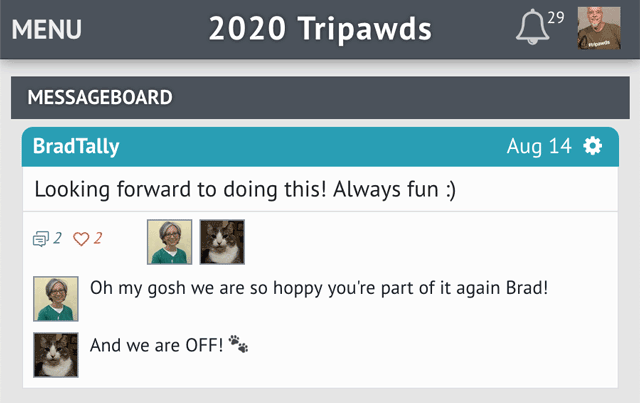 Hint: This was not a race. Racery is used by organizations to easily create virtual races. But, we prefer to call this a team effort – with everypawdy "running" for Team Tripawds!
And you don't even have to run! While the typical virtual marathon is designed for runners, the Racery app lets participants log all sorts of activity. Users can input time spent cycling, bowling, or doing yoga and the app will automatically convert the activity to mileage. In fact, the first to finish this years "race" logged hours spent cooking and doing yardwork, among other things, which added up to 26.2 miles.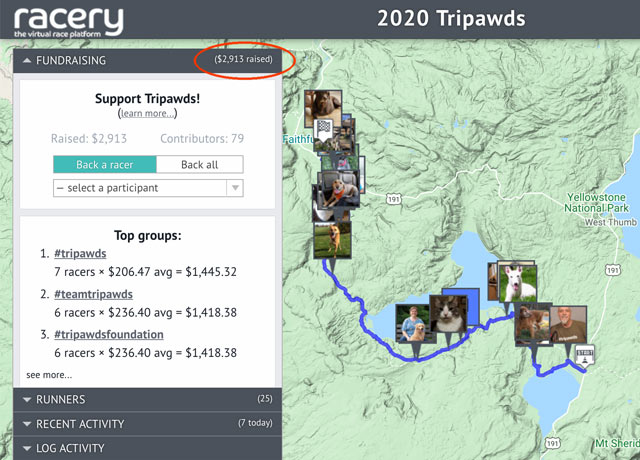 Fundraising With a Virtual Marathon
Racery makes it easy for participants to share their personal fundraising links. Therefore, donors can back a specific runner, or back the entire team. There are just a couple days remaining in the 2020 Virtual Marathon. And, we are less than $100 away from reaching our goal.
Plus: Everybody's a winner! Have you seen the pawesome gifts we have for this year's virtual marathon runners participants? Three paws up to the pack at Ruffwear for helping us make this event more fun than ever.
Stay tuned for results of the 2020 Virtual Marathon!