The Tripawds Foundation had such a positive response at WVC 2017 that we'll soon be sending out a couple thousand pet amputation brochures requested by veterinarians, vet techs and animal hospital managers. These free materials help concerned pet parents facing amputation for their dogs and cats by offering recovery and care information, success stories, and a place to turn for comfort and support from members.
Unfortunately, we were almost all out of brochures! Until now…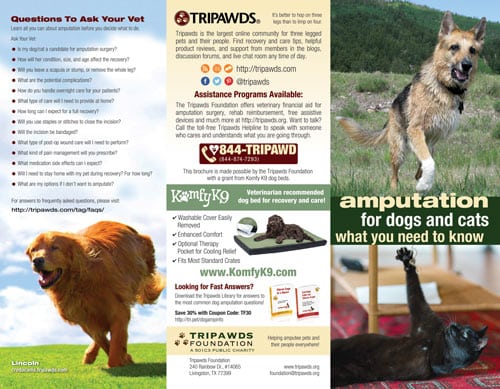 Tripawds Outreach Materials Sponsored by Komfy K9
We are very pleased to announce that the kind folks at Komfy K9 have sponsored a new print run of 3,000 brochures!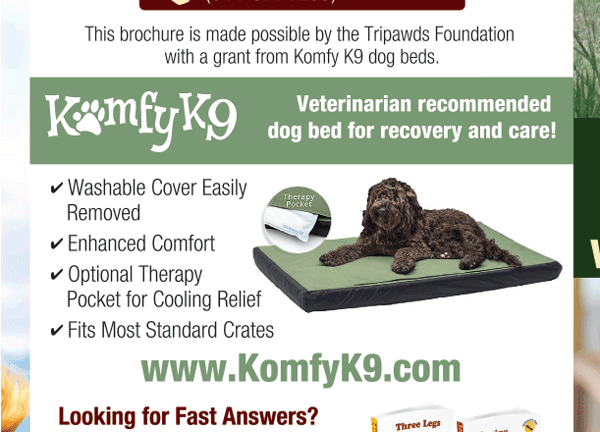 The Tripawds Foundation offers co-branded brochures at an affordable price to individuals or companies with products we believe to be beneficial for three legged dogs and cats. Space on the back of the brochures is reserved for product messaging or a special tribute to Tripawd Heroes and Angels.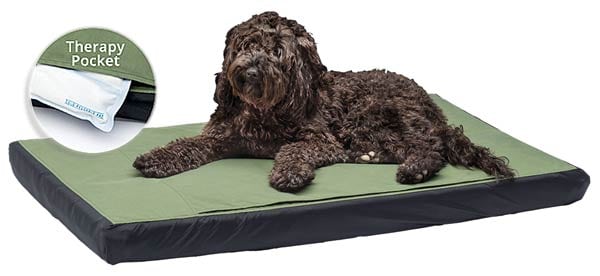 The Komfy K9 Dog Bed is a product we can definitely recommend. Its unique design, with the highest quality foam and air inflation, provide maximum therapeutic comfort and support for any dog—especially during amputation recovery.
Our techs love them especially for dogs that have had painful surgeries, older arthritic pets, and pets that are not mobile. They are easy to clean, and to change out the machine washable covers.
—Wignall Animal Hospital, Dracut MA

Komfy K9 beds are recommended by veterinarians and being used in vet clinics all over the country. The washable quilted plush cover is easily removed for cleaning, and an optional therapy pocket cover is available allowing for the insert of a cooling comfort pad.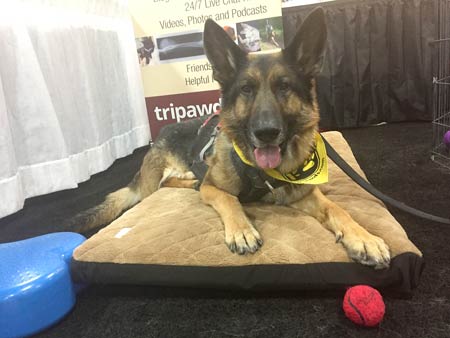 Tripawds spokesdog Wyatt Ray gives the Komfy K9 dog bed three paws up!
Lori, the founder of Komfy K9 saw Wyatt working hard at WVC and was kind enough to give him his new bed. This bed works great in the mobile Tripawds HQ since it is easily rolled up and comes with a handy carrying case.
Komfy K9 is proud to support the amazing work of the Tripawds Foundation. Our therapeutic waterproof beds offer owners the best of both worlds in a very supportive mattress that is also extremely easy to clean. Unique features like our therapy pocket offer the option of heat or ice therapy and the mattress easily rolls up and self inflates for travel. The design using both foam and air make the beds easy to get on and off by being very supportive yet firm at the same time. The lightweight covers are quickly removed and replaced while the waterproof mattress is simply wiped down for easy cleaning.
—Lori Hills, Komfy K9
Thanks to this partnership, we'll have enough Tripawds brochures for all those requested at WVC, and have enough left over for sending out to more vet clinics in the coming weeks.
Does your vet clinic have Tripawds brochures yet?
Request free brochures for your vet here. Send us their address and we'll add them to the list.
Can you help out with postage?
Mailing all these brochures is not cheap. Please consider a small contribution to help us cover postage expenses. Or, see the various other Tripawds Foundation sponsorship opportunities currently available. Together, we can help more three legged pets and their people everywhere!