Here we are, starting the fourth month of the year and the Tripawds Foundation has currently raised $922 of its annual $24,000 budget to maintain all current assistance programs. Some simple math shows we are far behind our goal for the 2018 Tripawds Fundraising Campaign.
Thanks to one anonymous community member, you can help us get back on track during the Spring Matching Contributions Campaign.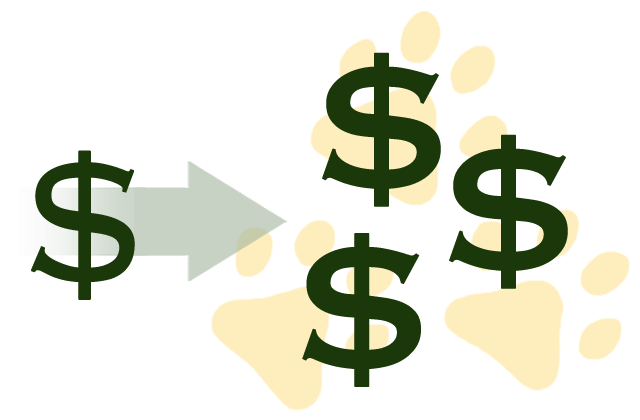 Three is a magic number.
Starting now, every dollar you donate to the Tripawds Foundation is worth three! For the next four weeks only, your donations will be matched by this generous member who has once again coordinated with another charitable organization which has agreed to match her match.
Donate $10 to earn $30 for the Tripawds Foundation.
Donate $100 and we can put $300 toward the ASAP Fund, Free Tripawd Rehab, Rescue Fund and other ongoing assistance programs that help amputee pets and their people everywhere.
Support Tripawds & Triple Your Donation!
Three Thousand is even better!
This campaign ends in one month on Tuesday, April 24. That should give us ample time to raise the maximum amount of $1000 that will be matched two times. But don't wait!
Set an example for others by making your charitable contribution today. Visit the Give Page now to securely submit your tax deductible donation. No amount is too small. Then send us a photo and a few words about your three legged heroes and angels to include in our weekly tribute on the Tripawds Honor Roll.
Thanks to you, we can help more Tripawds by continuing to offer helpful programs like this:
Support Tripawds & Triple Your Donation!
Thank you for your support!